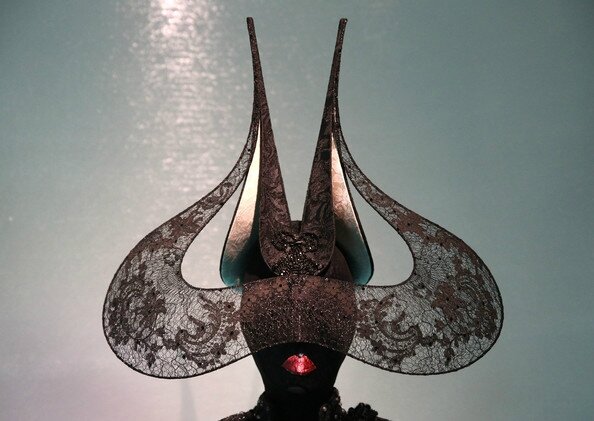 You may have been forgiven for thinking that the recent exhibition about Isabella Blow, fashion stylist and patron extraordinaire of the 1990s and 2000s, at Somerset House here in London, was a sneaky opportunity to catch a glimpse of Alexander McQueen's retrospective Savage Beauty at the Metropolitan Museum, New York in 2011.
To be fair, many sections of the Isabella Blow: Fashion Galore! exhibition consisted entirely of garments, accessories, photographs, videos and, of course, hats that were the work of designers and models whom Blow had 'discovered' throughout her career as both stylist and muse of British fashion in the last decades of the twentieth century.  These included McQueen, Hussein Chalayan, Julien Macdonald, Philip Treacy, Stella Tennant and Sophie Dahl.  It was hard not to disagree with the NYTimes who suggested this was an exhibition as much about the designers nurtured by Blow as it was a celebration and insight into her own contribution to the history of fashion styling.
And yet, this emphasis on Isabella Blow as the ultimate 'discoverer' of fashion at the edge, fashion which didn't fit in, fashion that was anxious, acted as a critical thread throughout the exhibition. From her family roots, which include Lady Vera Delves Broughton, the grandmother whose ethnographic photographs of peoples from places such as the Papua New Guinea are now in the archives of both the British Museum and the Royal Anthropological Society, to her support in and influence upon key collections by Treacy and McQueen, Blow is presented as a fashion explorer, someone who goes where others mostly fear to tread.  As a result, her decision to support the most exotic and self-critical of designers has been mythologized in much writing about fashion in the late 1990s (Evans, 2003; Breward, 2003; Craik, 2009).
This is certainly played out in the opening section of the exhibition, as the visitor is taken on a biographical journey that highlights both her discoveries and inspirations in an anthropological way, with all the objects on display lit by singular spotlights while the surroundings remain in almost complete darkness.  Moving though the various videos, garments, printed ephemera, I felt as if I was at the British Museum, glancing at rare finds that had only seen the light of day after a lifetime of obscurity.  The decision to display the portrait of Blow by Noble & Webster, as one of the first objects encountered acted as a bewitching fashion totem, suggestive of both the exotic and the wild things to be discovered in the rest of the exhibition.   The interior details certainly lent themselves well to the macabre and the mournful, whether it was walking through a plastic curtain more at home in a cold storage facility or following the curve of dark red, heavy, curtains as shrouds for the start and end of the exhibition.
Although it was exciting to see so many examples of McQueen and Treacy's work on display, for me the highlights were two exhibits featuring the outfits worn by Blow that were apparently put together from archival photographs and newspaper cuttings.  Worn on Blow inspired mannequins with their downturned, red-lipped mouth and size, one set was arranged in a circular room against the backdrop of an interior from Boddington Hall, her estranged ancestral home.  The other set of outfits flanked the visitor either side, and were set against a recreation of her favourite outdoor location for photographs; where the lawn met the hedges on her husband's estate.
These two displays capture Blow in all her glory as muse, stylist and patron.  This is a woman whose approach to fashion was far from entrepreneurial but embraced a love of historical references, contemporary designers and creative visions.  However, it was a surprise not to see the curators including references of their own efforts to represent Blow in all her many guises.  As a result, Blow is represented as the final product, rather than a work in progress, which means the visitor gains little more insight into this woman's approach to dress than what has already been covered in heavily edited texts and images.
Interestingly, Alistair O'Neill, one of the co-curators of Fashion Galore: Isabella Blow, wrote an engrossing but perhaps esoteric text called London: After a Fashion (2007) which suggested that the motif of the masked figure  allows the wearer to "wander, phantom-like' through the fashion world, excavating what she likes, ignoring the banality of everyday life."(O'Neill, 2007:18)  Clearly, Blow, with her passionate commitment to headdresses of all types, always appeared masked even if her face was not completely obscured from view.  Yet, it also seems that the curators have chosen to maintain the various masks that we assigned to Blow throughout her lifetime.  The decision not to show how Blow in fact styled herself or handled her life beyond fashion compound the myth of her as the ideal 'discoverer', whose own motivations never come under further scrutiny.
Nonetheless, a set of displays aimed at revealing the more mundane details of a woman who lived for her love of fashion could have provided the more observant visitor with a sense of just how complex and contradictory Blow was.  Once I had got past the rather bizarre display cases, which I was surprised to discover were designed by Shona Heath, it was fascinating to learn how Blow would wear odd shoes, always write in pink pen, ignore magazine budgets, give McQueen falconry lessons or not think twice about damaging her outfits as the result of late night parties and too much time spent near a burning candelabra.  It was a rare moment in the exhibition when I thought 'What was it like to actually live as Isabella Blow?'
Yet, the display of her peculiarities, for me, reiterated just how much Blow's ability as a stylist was clearly tied up with her cultural capital as fallen aristocrat, embodying the 'upper-class raffishness and eccentricity' characteristic of bohemian women (Wilson  2003:110).  Wilson (2003) also suggests that these women often had complex relationships with their own sense of achievement and this certainly seems relevant in the case of Blow.[1]
Watching a video featured by Selina in a previous Worn Through post, featuring commentary by those who knew Blow, I was struck by the insight offered by Ingrid Sischy, then editor of Interview magazine, on the way in which Isabella Blow struggled with her various visions of herself.  Sischy suggested that it was this conflict of self-vision that caused Blow such a turbulent interior life, arguably leading to her suicide in May, 2007.
[1] Elizabeth Wilson (2003) Bohemians: The Glamourous Outcasts London, Tauris Parke