This video, taken in West Germany of Mod's in 1967 depicts space-age fashion from the year 2000. Confused? Watch the video to see what it's all about.
I love this for both its ties to fantasy, futuristic space travel, as well as European design aesthetics. I can't help by be reminded of the big names of fashion in the 1960s, such as Pierre Cardin and Rudy Gernreich.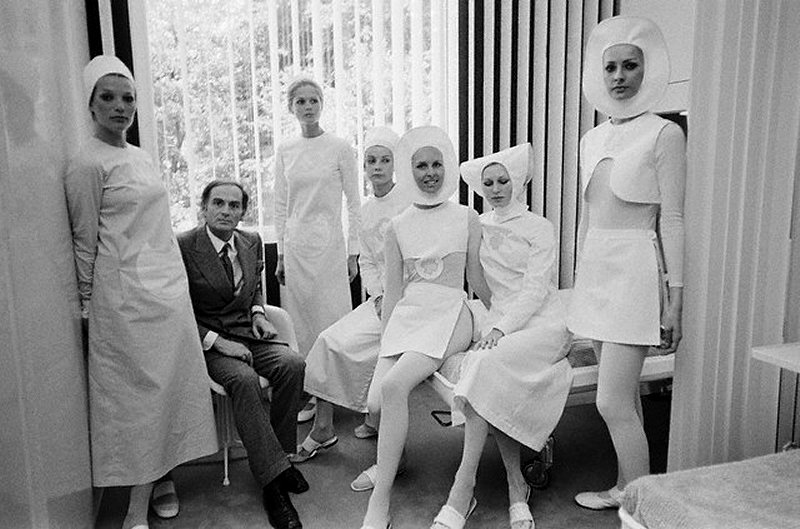 Nurse Uniforms by Pierre Cardin via (Revel in New York)
After all the hype last week focused on the Lady Gaga and Thierry Mugler aesthetic – the 'future focused' space fashion of the 1960s seems to have arrived. The 'transformative' clothes created by Nicola Formichetti / Lady Gaga for Mugler (titled "Anatomy of Change") seem to draw heavily from the 1960s notion of 'the future.'
Nicola Formichetti for Thierry Mugler, Womenswear F/W 2011 (Via Cosin M: Design In style)
While admittedly, the 60s seem to cling to the innocence and optimism, where Muglers is a dis-topic version of the future, heavy on monsters.  Both use plastic-looking textiles (especially those that are shiny and slick), partially exposed bodies (cut-outs and tights), and the addition of strange shapes/forms. In the 60s Cardin and Gernreich used geometric and animalistic forms, but for Mugler it's alien anatomy or odd skeletal shapes.
Gaga's apparent purchasing of the entire collection also seems oddly reminiscent of Isabella Blow buying all of Alexander McQueen's Graduate collection. What do you think? Do you see a connection between 60s future fashion and Gaga/Mugler fashion? Might they be two sides of the same coin?