Continued from last week, here is the second half of my list of favorite films to use in the classroom when teaching history of western dress.  This week, the focus is on the twentieth century.
The Edwardian Period: A Room With a View
1920s: Enchanted April This is just recently out on DVD.  Some trivia:  it was filmed in the Italian villa in which the author of the book, which the film is based on, wrote the book and set her story.
1930s: After the Thin Man
1940s: The Thin Man Goes Home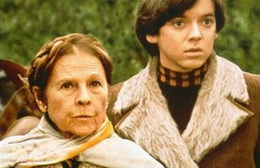 1960s: Breakfast at Tiffany's
, Harold and Maude
1970s: Saturday Night Fever
I like the above clip, the introduction to the film, because it shows a male character engaging in appearance management and consumption behaviour.
1980s: Working Girl
I like this film because I like the styles I can show in class through the main character's transformation from humble big-haired secretary to sleek, shoulder-padded boss-in-a-power-suit.
1990s: Unzipped
I have made a small crusade out of making sure that my students know Isaac Mizrahi as more than simply "that guy from Target."
2000s: "Fashion DVD/Haute Couture" , this title is compiled Paris haute couture from Autumn/Winter 2004-05.
Now that we have come through the twentieth century and the early years of the twenty-first, what are your favorite films for illustrating dress of this period in history?  I clearly need something for the 1950s, and I am certain that the 1970s warrants something more than "Saturday Night Fever"…perhaps "Annie Hall"?