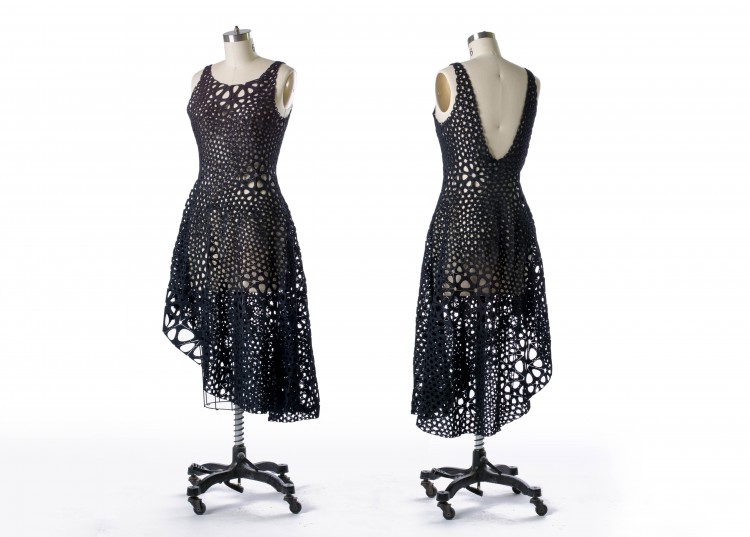 Do you dream of a future in which, when confronted with a limited wardrobe, you can purchase a pattern online and print yourself a new outfit? 3D printing technology has not yet advanced to that level. 3D printers capable of producing large-scale pieces are expensive to purchase and maintain, and printed fashion, like other 3D-printed objects, is typically made of plastic or polyamide (nylon). Rather than woven or knit, 3D-printed fabrics are are constructed of interlocking components that hinge to fit the body. The best examples of 3D-printed garments are not wearable for everyday–they are works of art, acquired by museums like the Museum at FIT and MoMA. Several videos below explain 3D printing and highlight the fascinating process of creating fashion using this developing form of fabrication.
This recent video from Mashable is a good, brief primer on the 3D printing process.

The Creators Project introduces Shapeways, a 3D printing lab and marketplace that makes high-end printing technology available to designers.

DIY electronics manufacturer Adafruit shows you how to make an accessory with the $600 PrintrBot Simple and nylon filament.

Designer Michael Schmidt describes his process for designing and printing his spiral gown, modeled by burlesque dancer Dita Von Teese.

The birth of the "first 4D printed dress" was documented, and as designers had one shot for their innovative approach to be effective, it is surprisingly thrilling to watch.

Image Credit: Nervous System