In this new column for Worn Through, Interns Jaclyn and Michelle will explore the new and emerging field of digital resources and their potential for primary research in fashion. 
High-resolution images can greatly enrich papers, conference presentations and teaching. If you've ever found the perfect visual source on Tumblr that you were unable to use due to pixelation and lack of citation, you know the frustration of seeking historical images online. Below are several digital libraries that have made available millions of photographs, illustrations and more from archives and museums. In each case, searches can be limited to the public domain, and large (sometimes lossless) files are available to download. Images are cataloged with metadata such as date and creator, and are linked back to the institution that owns the original.
1. The NYPL Digital Collections include prints, photographs, maps and streaming video. The current asset count is over 800,000, and new materials are added daily. Curated collections of particular interest to fashion historians are Collections for Designers, including Dress and Fashion; Decorative Arts, and Public Domain, which includes thousands of fashion plates. Click the download icon to the right of an image for available filetypes and sizes.
2. The Prints & Photographs Online Catalog from the Library of Congress reflects 95% of the holdings of LOC's Prints and Photographs Division. The collection is international in scope, but focuses on the history of the U.S. Check out the Swann Collection of Caricature and Cartoon, the extensive Daguerreotypes Collection, the African American Photographs assembled for 1900 Paris Exposition, and much more. Thumbnails for most images link to a small and medium JPEG download as well as a lossless TIFF.
3. Europeana is best described as a content aggregator, partnering with museums, libraries and archives all over the world to make digital collections accessible and discoverable. Boasting over 30 million items searchable in numerous languages, Europeana is very active on social media, highlighting items on Pinterest, Facebook and their blog. If you're feeling overwhelmed by the homepage, try starting at their FAQ, or take a look at beautiful images selected from the open content archive. Download links are available at the top of the page after clicking an image thumbnail.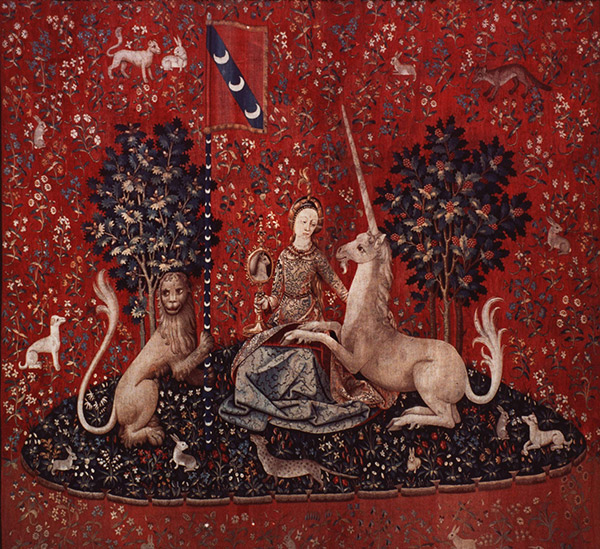 4. Getty's Open Content Program makes available all content from Getty Trust organizations for which they own the rights, or is in the public domain. This sub-collection is searchable via the Getty Gateway and can be downloaded for any purpose. Strengths of this collection are photographs of Italian art and architecture and the recently-added 5,000 study images of 15th to 18th-century tapestries.
Image credits: Lena Horne, from NYPL's Friedman-Abeles Photograph Collection; Where there's smoke there's fire by Russell Patterson, from LOC's Caroline and Erwin Swann Collection; Sight, Lady with Unicorn, c. 1490–1500, from Getty's study images of tapestries.