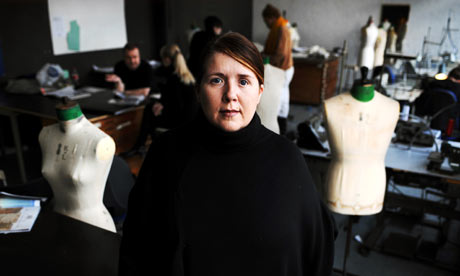 I wanted to take this opportunity to acknowledge the recent passing away of Louise Wilson, the enigmatic course director of MA Fashion at Central Saint Martins.  This 'formidable' professor was known for her passionate but sometimes challenging approach to teaching fashion, which I think is described best by Wilson herself in an interview on ShowStudio in 2012.
I strongly recommend listening to Wilson talk about her own educational experience studying fashion at Central Saint Martins, her views on the shifting political landscape of higher education and the value of studying as a transformative process which can often be a tough journey for both teachers and students.  It was perhaps this last point that meant Wilson was able to push those she taught to find their own voice, as evidenced in an alumnus list that includes Roksanda Ilincic, Alexander McQueen, Hussein Chalayan and Christopher Kane.
Watching Wilson in the interview, I was struck by her uniform of black dress, her poise and the steadiness of her hands clasped together.  Her choice of dress was, as Wilson explained in Vogue, a consideration of her scholarly identity as wearing black gave her the opportunity to  avoid being singled out by others.  Conversely, it seems that the decision to maintain a particular uniform also lent authority to her role as tutor/teacher, as well as her strong views on the purpose of education.  This reflection upon the way in which dress can impact upon our role as teacher/educator resonated with a comment I heard at a recent workshop on learning development in higher education when the presented referred to the power of performativity in dress when engaging with students.  Both make a valid point – clothing plays an important role in the negotiation of our various identities, which in this case is our scholarly one, and perhaps it is this recognition that contributed a small role in making Wilson such an inspiring tutor. 
As someone who works across two universities, and who encounters both students and staff in a variety of contexts, I am in constant negotiation with clothing as a way to define both my roles and my responsibilities.  For example, in one university, I am categorised as an academic member of staff who works within an art and design department so I have free rein over how I present myself sartorially.  However, in the other institution, I belong to a senior professional services staff team who support students studying predominantly science and business subjects.  The dress code is more formalised, or uniformed, and for me, the hardest to negotiate in terms of my own educational identity.  Interestingly, there is often no formal dress policy within universities so these signs of uniformity are arguably individually and socially generated.
I am currently developing a research project into the dress of academic staff and would be very grateful for any reading suggestions, theoretical angles, everyday observations or possible volunteers.