I am currently on the hunt for additional examples of a specific style of 1930s evening gown with quilting as decoration. I've recently come upon two remarkably similar pieces, suggesting that a single designer was experimenting with this style. I'm hopeful that those of you who work in museums, or auction houses or who are vintage collectors might have come across these types of gowns in your own work.
A few key elements are repeated, but frustratingly these dresses do not have identifying labels, linings or slips (and probably did originally). The two that I have come across are very similar, though not identical and show high quality workmanship. They have the following features:
Quilted and padded winged shoulders/sleeves
a demure bow at the collar
a mermaid style, bias-cut skirt
made of iridescent taffeta, in varying shades of purple.
This marvelous example from Vintageous, is typical of the design that I'm researching:
In doing a little preliminary research on quilted fashions of the 1930s, I did find a couple of leads. Quilted clothing and furniture had a revival during this era, as is pointed out in the book, 400 Years of Fashion. In 1933, Elsa Schiaparelli created an elaborate quilted taffeta cape that was featured in the December 1, 1933 issue of Vogue. These dresses do remind me of Schiaparelli – they are vaguely surrealist and seem to reference butterfly wings, mermaid tails, and other sculptural elements – but I don't think they are Schiap's.  In 1937, Charles James took the idea of quilting a bit further, and produced this highly sculptural evening coat. Both of these designers regularly utilized sculptural elements in their fashion design. Schiap, often used Dali's work in sculpture for inspiration, and James often focused on sculpting a woman's form into his ideal of femininity.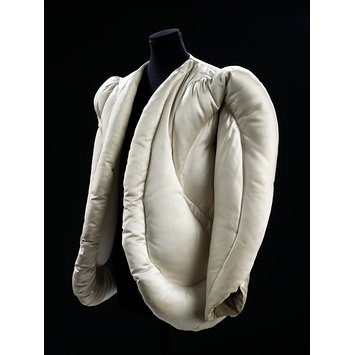 Charles James Evening Jacket, 1937 (V & A)
Molyneux also seems to have used quilting as decoration heavily during this era, and as early as 1929. In May of 1935, he created an quilted taffeta evening gown, and paired it with a "plain jacket" (see "FROM ORIENTAL DRAPERY TO CALICO; Wide Shoulder Line Is Coming Back," New York Times, May 26, 1935). Another example of an all-over quilted evening gown appears during the 1940s, by designer Matilda Etches.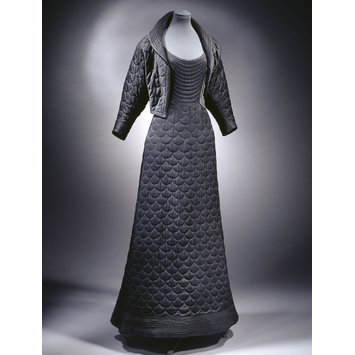 Matilda Etches evening gown, 1947 (V & A)
However, the most similar gowns appeared 1933 and 1934: Bette Davis wears a strikingly similar piece with quilted shoulders, quilted hem, and a key0hole back in this unnamed designer gown photographed and published in November of 1933. In the March 1934 (n°151) issue of L'Officiel de la Mode I came upon several similar designs, with wide shoulders, and quilted details by Paris Designer Helen Hubert (not much information is available on Hubert, aside from this 1934 article from the Pittsuburgh Press).
Bette Davis in a similar gown, November 8, 1933 (Corbis)
Helen Hubert fashions (click to enlarge) L'Officiel de la Mode. 1934 n°151
And there my friends, my search has stalled. If anyone has any information or has seen one that looks similar, please do leave a comment below so I can be in touch.