In my day-to-day life, I regularly find myself watching as two of my addictions — fashion history research and kniting — battle it out over my free time. So when I happened on the cover of the Ohio Knitting Mills Knitting Book
, showing a knitted version of a 1960s Mondrian dress by Yves Saint Laurent, I knew I had to check into its pages (after all, you 'can't judge a book by its….).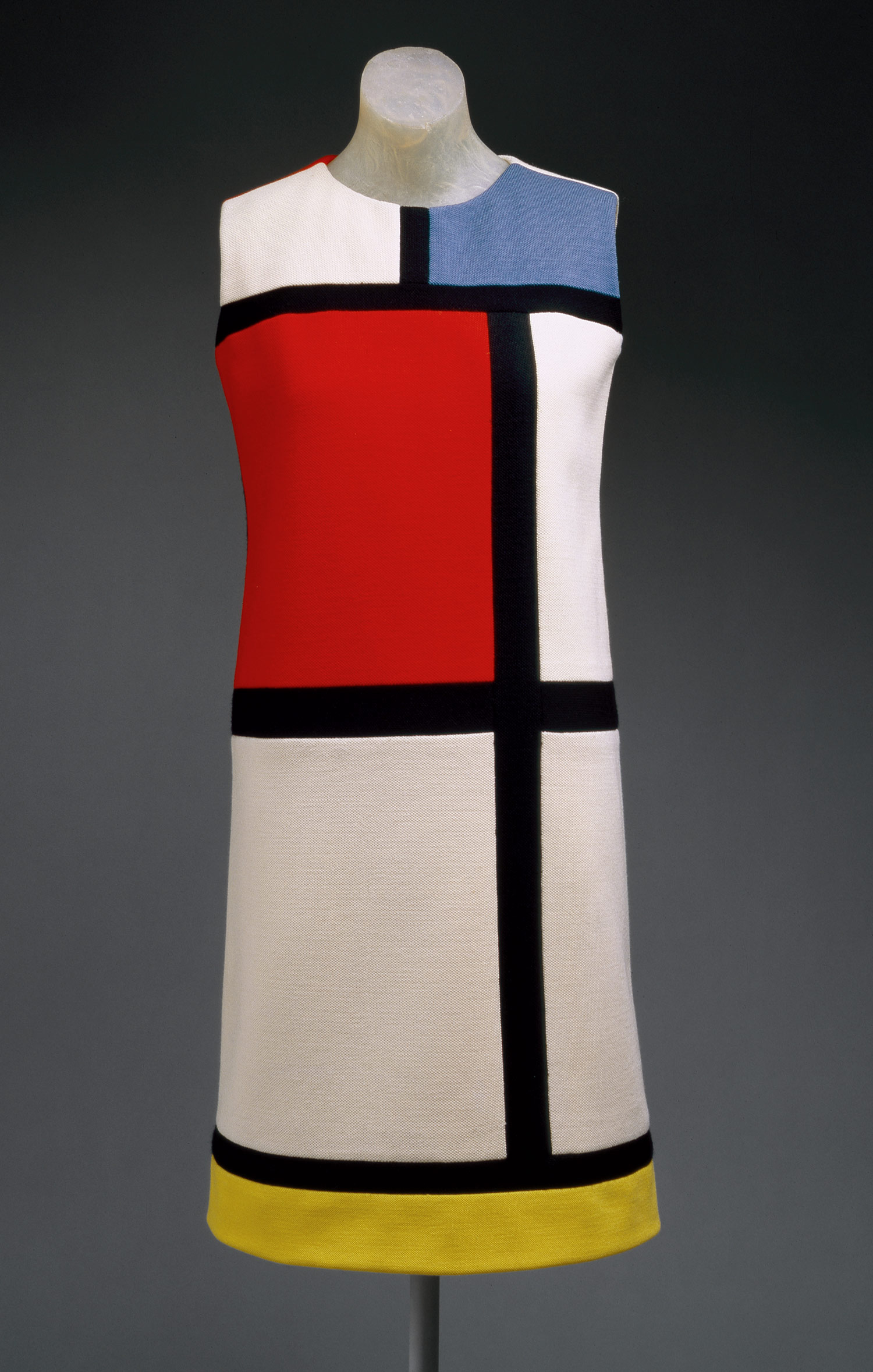 "Mondrian" day dress, autumn 1965, Yves Saint Laurent, Metropolitan Museum of Art, Costume Institute.
The Ohio Knitting Mills Knitting Book
(Artisan)  tells the story of a unique archive of this Cleveland, Ohio based manufacturer – its owners, designers, factory workers and of course its designs. Its credits reveal the collaborative nature of the project – it was written by Steven Tartar (a Cleveland-based sculptor) with Denise Grollmus (a Cleveland based writer) and includes fashion photography by Anna Wolf with patterns written and adapted by a number of knitting designers (most were written and edited by Alexandra Virgiel, and professional knitters who contributed designs were Galina Carroll, Sarah James, Sue Jaloweic, Kim Craig, Laura Huber, and Hannah Tatar with some embroidery patterns by Kristin Nichols).*
Ohio Knitting Mills workers with a Raschel warp knitting machine, c. 1949 (via Ohio Knitting Mills Blog)
Though there is not a fashion historian or academic among the various contributors, the book does provide a wealth of very specific information within the context of the larger history of fashion, if somewhat simplified for general consumption.
It proves to be a fun, quirky and visually appealing history of the company, and of knitwear in the American 'heartland' from 1940-1970. It's not a book I would say that scholars should cite as a reliable source on its own, but it is a good start. The pages are filled with archival photographs of factory workers, original pattern illustrations, a time-line of the company's history, as well as knitting patterns, a glossary and a photo-record of labels from other regional knit-wear company's. Interviews with past employees  (especially Gary Rand – whose grandfather Harry Stone started the mill in 1927) were executed by the authors and help provide unique information about the company and its designs.
Ohio Knitting Mills Founder, Harry Stone, Knitted portrait c. 1932 (via Ohio Knitting Mills Blog)
It begins with a short history of the Ohio Knitting Mills company (1927-2004), followed by a series of four chapters arranged chronologically by decade (1940s: The Birth of Sportswear; 1950s: Knitting the American Dream; The 1960s: Bright, Bold, and Bohemian; The 1970s: Threads of Many Colors). Each chapter opens with a brief historical snapshot providing context to the designs, and placing it within the over-all company history. Each of the twenty-six patterns includes background information on the garment form and design, followed by the hand-knitting pattern instructions, allowing knitters to re-create a modernized version of the machine-knit item.
"The Outsider" (originally designed for Fall 1972) via Susan B. Anderson and her blog, "I just want to Knit."
A unique feature for the book is that it includes photos/illustrations of the original design inset into a larger image of the updated design and pattern provided. It allows readers to see and identify historical elements for each piece themselves. (For more interior page-spreads check out this review from Susan B. Anderson and her blog, "I just want to Knit.")
This book also includes sidebars, appropriately discussing major influences, historical background, advances in technology, the women who worked in the Mill, profiles on the head designer and family history of the Mill Owners, among others. One such sidebar, though its title seems a bit misleading, is "Cleveland: America's Fashion Capitol" –which is a discussion based on Cleveland being one of the largest "apparel manufacturing centers, along with Philadelphia and New York." (19).
The Duke and Duchess of Windsor, c. 1938 in 'Poor Boy' style sweaters (via Ohio Knitting Mills Blog)
Discussions are included that address much of what impacted American sportswear —  from politics and civil rights, to pop culture and the media, to art, music and literary movements.The twenty-six different designs are discussed in detail and in much the same way that an exhibition catalog provides details on each piece. Some specifics include the impact of WWII on the knitwear industry; Dior's New Look in contrast with Utility style; the 'Poor boy' as a precursor to the t-shirt; popular culture's impact on sportswear design (including various TV shows – Father Knows Best and I Love Lucy); The American West; Art History (Jackson Pollock and Willem de Kooning), Beatnik style and Jack Kerouac, among others.
"Abstract Expressionist" (Excerpted from The Ohio Knitting Mills Knitting Book (Artisan Books) by Steven Tatar with Denise Grollmus. Copyright 2010. Anna Wolf, photographer.)
The Ohio Knitting Mills Knitting Book
is ideal for a knitter interested in fashion history, though it must be pointed out that it is not appropriate for use as an academic resource on its own. It lacks any kind of notes, bibliography or source identification save for the photography credits-and the interviews done with several people connected to the Mill seems to have provided the majority of details.
Included are patterns for dresses, two-piece ensembles, men's and women's pullovers and cardigans, poncho's, bags, jackets and vests. Some of my favorites are the ski sweaters from the 1950s. Though I've not yet had a chance to test the patterns (I'm buried in four or five other projects, but I'm dying to make that Mondrian dress), I can't help but wonder as to the practicality of the patterns. Ravelry, a social networking website for knitters usually devours new patterns quickly, but it doesn't show anyone (other than the designers) as having re-created the pieces. Then again, the book has only been available since August and they do look like fairly lengthy and time-consuming patterns. If anyone has tried patterns from the book, I'd love to hear your comments below.
More information:
Given that there are no references provided in the book, I thought it might be helpful to see where to go for further documentation (though information is scarce).  I hope it will spark an interest in doing a more scholarly history of the Ohio Knitting Mills company – it could make for an interesting project.
Here are some additional references:
*Most of these knitwear designers are on the knitting social networking website, Ravelry.