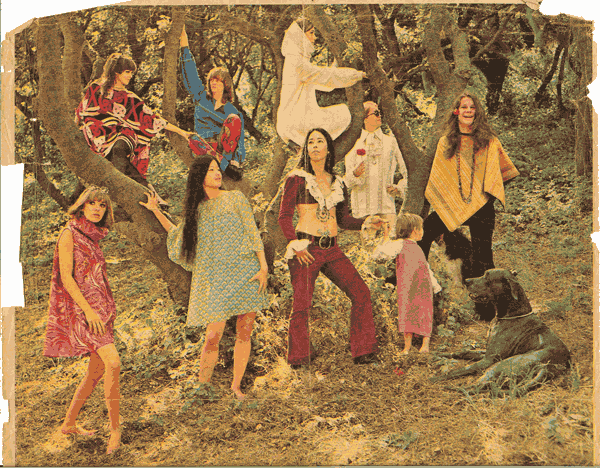 *
A few weeks ago I was privileged to attend a panel discussion at the San Francisco Museum of Performance and Design focusing on San Francisco Rock n' Roll clothing (costume & fashion) of the 1960s: items worn and designed locally, for and by rock musicians (both locally and internationally recognized groups between 1963 and 1973).  A quick word to the wise: Don't assume San Francisco was interested in tie dye or disco at this time – the participants of this panel were quick to assign responsibility (and blame) for those trends to Los Angeles and the 1970s.
The panel was led by co-curators Alec Palao and Melissa Leventon and included rock costume designer Jeanne Rose, (Big Brother and the Holding Company, Jefferson Airplane, the Young Rascals, Country Joe & the Fish);  Helene Robertson (who owned the boutique Anastasia's, a mod shop in the Bay Area and Los Angeles); musician Peter Kaukonen, (Jefferson Airplane & Jefferson Starship, designed stage and street clothes for himself) and George Hunter (founder of The Charlatans, a San Francisco's band and created the look for the band). Audience members had dressed in vintage Mod and Hippie attire, contributing much to the atmosphere.
The Charlatans, as pictured in the exhibition on view at the San Francisco Museum of Performance and Design
Stylin': Bay Area Rock Fashion 1963-73, opened with an introduction and brief history of the museum by the organizing curator, Brad Rosenstein, and flowed quickly into a discussion of slides moderated by Leventon. It included a number of interesting, if slightly rambling, insights by the panelists into the beginnings and development of the counter-culture music and fashion scene of San Francisco.
Jeanne Rose (or Jeanne Colon/Jeanne the Tailor as she is alternately known) was the first to talk. Her interest was primarily in designing costumes and clothing for men.  The male aesthetic seemed to appeal to her – and she preferred to design for their straight lines. She felt clothes just looked better on men, but recognized the need to design clothing for women as well.  As she put it,  the groupies wanted her clothes too! Rose/Colon was influenced strongly by natural fibers: silk and linen cotton, handmade and hand-crocheted pieces, as well as some historical reference. Most of the clothes she sold had been made on her 1910 treadle sewing machine. She designed almost exclusively for Jefferson Airplane, but also designed for Big Brother & The Holding Company (including Janis Joplin), as well as the Young Rascals and Country Joe & The Fish. Be sure to check out more photos of her 1960s and 70s rock designs on her website.
Hand-crocheted pants by Jeanne Rose, modeled by Katherine Smith, May 2010.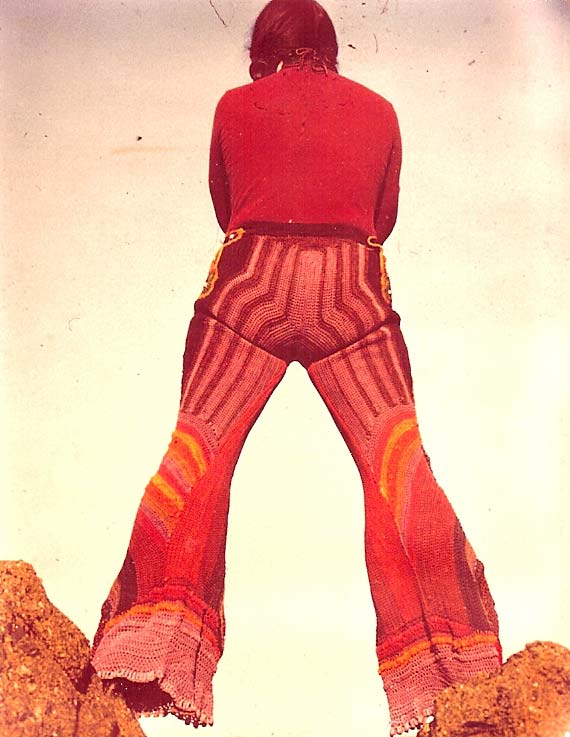 Jeanne Rose in hand crocheted pants, 1970
Next on the panel was Helene Robertson, owner of Anastasia's a boutique. Robertson opened the original shop in 1961 because she had specific (and unique) career aspirations. "I didn't want to wear shoes, I didn't want to have to work until 11am, and I wanted to take my dog to work with me." Robertson said that her mother had always sewn her clothes, and felt it was a natural progression to open up a boutique. The location of the shop contributed to its continued success: it was directly across the street from an early rock club in Marin, California called the Trident (follow the link for more of it's amazing history). Robertson frequently traveled to London for design inspiration and to get her hair cut. Consequently, her clothes were reminiscent of the Carnaby street Mod's, though her store was known for both its hippie and mod styles. Robertson, and her shop were featured in a clip from a 1967 KQED documentary called Come Up the Years: Spirit of '67 that was played during the discussion.
Helene Robertson in the 1967 Documentary by KQED, Come Up the Years: Spirit of '67.
Lecture slide featuring Helene Robertson in hippie clothing, and with Sonny & Cher.

The final two participants were Peter Kaukonen and George Hunter. Both men are musicians who also had a strong interest in clothing. Kaukonen, who created the amazing patchwork jeans pictured below, was interested in color, visually exciting garments and especially in things that implied movement and kinetic energy. The example pieces he brought in showed a strong interest in ethnic clothing, as well as an appreciation for handwork. His emphasis was clearly on craft, and it's part in the 1960s aesthetic. Hunter, who founded the San Francisco band The Charlatans, seemed more drawn to historical menswear, especially the "wild west" and dandyism (as is evident by the video below).
The evening ended with an impromptu fashion show of Jeanne Colon/Jeanne Rose pieces, followed by questions from the audience. The panel was clear in it's discussion of tie dye in the Bay Area, with Melissa Leventon proclaiming that San Francisco was a tie dye free zone and a disco free zone (as it really didn't start to come into play until 1969, with the advent of the Grateful Dead. Panelists suggested that some over-zealous journalists got overly attached to the notion of tie dye, and that "Los Angeles Musicians tie-dyed everything. Even their cats." More to the point however, was the ending comment that artists and musicians of the San Francisco Bay Area gave a generation of early rock music fans a visual identity through fashion. "People were all interested in looking like musicians."
Clothing by Jeanne Rose (Melissa Leventon pictured with microphone)
The associated exhibition, Somethin's Happening Here: Bay Area Rock 'n' Roll 1963-73, will be on view through August 28, 2010. A few images from the exhibition are featured below, and more are available here.
Jerry Garcia of the Grateful Dead
Jerry Garcia's hat
Janis Joplin costume on the left, and I believe a Jimi Hendrix vest on the right.
*Jeanne Colon and Friends, 1967.  Photo by John Gorham. Courtesy of Jeanne Rose. ("Out on several limbs, these far-out fashions by Jeanne Colon are modeled by some of Jeanne's friends. The friends: A. Jana Miles, professional model, wears a psychedelic hooded silk print; B. Michele Sevryn, a "love knot" dress of patterned silk; C. Bard Dupont, bell-bottomed peone pants and a pull-over shirt; D. Liane Chu, owner-manager of Berkeley's Red Square boutique, a peacock's eye "butterfly" dress; E. Jeanne herself, in a corduroy hip-hugger pants (with a Spanish influence), hand-crocheted lace top and body necklace; F. art and dance student Jacqueline Chris in a San Francisco Fog Suit, ideal for open convertibles; G. Maureen Kirby in a man's shirt of Irish linen and hand-crocheted lace copied from a 1780 French model. H. Amber Rose, Jeanne's daughter, in a washable cotton tot's dress with widely belled sleeves; I. Janis Joplin, lead singer of Big Brother and the Holding Company, in a poncho of antique Moroccan fabric over velvet peone pants, And George, the dog who immodestly, declined an outfit.")