"NIGHT & DAY"
Through May 11
The Fashion Institute of Technology [New York City]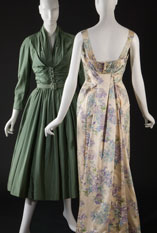 This exhibit explores the evolution of the rules that have governed fashion over the past 250 years, revealing when they have been at their most extreme or so relaxed as to be barely perceptible. Rules of fashion dictate how women should dress to suit the time of day, season, social occasion, or activity. They influence colors, materials, necklines, hemlines, and other elements of fashionable dress. Sometimes they operate as a flexible set of guidelines, at other times as strictly observed etiquette. Since the early nineteenth century, women's clothing has been primarily divided into daywear and eveningwear.
Click here for details.
"CHORDS AND THREADS: RHYTHM, MOVEMENT, STYLE"
Through May 15
Stephens College [Columbia, MO]
From the Cake Walk to Hip Hop, this exhibit explores howfashion, music and dance have enjoyed a symbiotic relationship.  Visualize sound through the prints, fringes, and silhouettes of fashionable dress in the 20th century.
Click here for details.
"MAHARAJA: THE SPLENDOUR OF INDIA'S ROYAL COURTS"
Through May 23, 2010
Kunsthalle der Hypo-Kulturstiftung [Munich, Germany]
This exhibit spans the period from the beginning of the 18th century to the mid-20th century, bringing together 250+ magnificent objects, many being lent from India's royal collections for the first time. It examines the changing role of the maharajas within a social and historical context and reveals how their patronage of the arts, both in India and Europe, resulted in splendid and beautiful objects symbolic of royal status, power and identity.
Click here for details.
*Thank you to the Costume Society of America for this information.