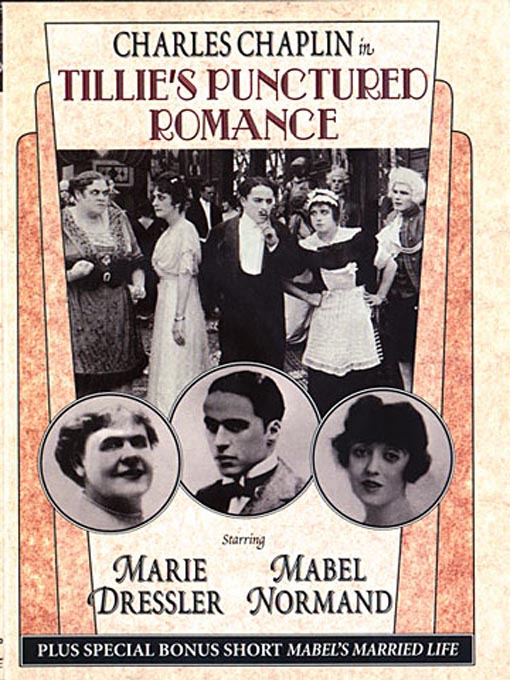 Tille's Punctured Romance was a Mack Sennett comedy that premiered in New York on Dec. 21, 1914. It stared Charlie Chaplin, Mable Normand and Marie Dressler. Dressler, the real star of the show, was primarily a physical comedienne better known in the legitimate theatre.
This film has been touted by film historians as the first full-length slap-stick comedy (in six reels),  but as you might have guessed, my interest lies in the costumes. Tillie's Punctured Romance began as a stage production in May of 1910, under the name Tillie's Nightmare. Of the stage costumes Ms. Dressler noted:
"You remember I was 'broke' when illness forced me to shake the dust of London from my reluctant feet..I hadn't any money and I had to have a lot of clothes [for Tillie] There was only one way to get them and that was to make them. This I proceeded to do. I recall one item of what the papers spoke of with proper reverence as 'Miss Dressler's gorgeous collection of Paris creations.' It was a silver coat composed of yards upon yards of silver lace. I wore it over a stage wedding gown of pink velvet. And if I do say so as shouldn't, Lillian Russell in her palmist days never boasted anything more frou-frou. For years after my dressmaking venture with Tillie, I made all my own clothes and those of my friends. I still like to sew. I never use a pattern. I simply take a squint at my intended victim, squat down on my heels with the material on the floor in front of me and my eager scissors in my good right hand. Once the garment is cut out, I lie down flat on my stomach and stitch her up. From this point on, my conscience is my guide. At that, my things must have turned out pretty well, or else my friends were gluttons for punishment in the old days. They kept right on begging me to sew for them. Even after I was able to afford 'store bougten' clothes, I continued to be own designer and dressmaker. Not only do I love to flourish a needle, but I loathe fittings."[1]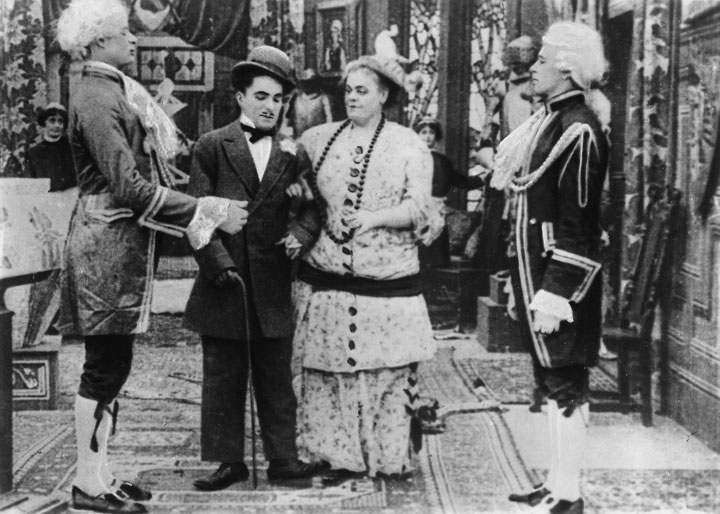 Charlie Chaplin attempts to con his way into the high life by courting Tillie Banks, played by Marie Dressler (BFI)
For the film version, she was paid a salary of $30,000, though it isn't known if the same costumes were reused, if new ones were created, or if she used her salary to purchase clothes for the film (as was often the case in early film history). [2] In an amusing description of an early scene in the film, a 1999 biographer notes:
"Her costume for the elopement with Chaplin was one of her own creations: a modified adaptation of a clown's outfit, with low waist, huge buttons, and a hat resembling a chamber pot topped with a flower and bird. . . Later, dressed in her 'dancing frock' that resembled a slip over Christmas tree, Tillie gyrated with startling abandon."[3]
The 'Clown' outfit can be seen above – complete with the strange hat. The 'Christmas tree' frock refers to the lampshade tunic and harem pants ensemble that Marie wears towards the end of the film, for a tango scene with Charlie Chaplin (pictured below). The ensemble bears a striking resemblance to those designed by french couturier Paul Poiret, especially those created for his extravigant Thousand and Second Night party held in 1911. Lampshade Tunics worn over harem pants or hobble skirts were popular during these years, primarily due to Poiret's promotion of the 'oriental' look.
In 1914, Poiret's work was illustrated in the Gazette du Bon Ton by ilustrator George Le Pape, showing his continued support for the style. It is possible, given the salary paid to Marie Dressler, that what appears in the film is an actually Paul Poiret tunic ensemble. However, it is also possible that it is the handi-work of the actress herself (given her disdain for fittings, and her own talents). In Tillie's Puncture Romance, Dressler clearly wears the look to suggest wealth, but also to make fun of "style," and the rich. (video of that scene here, the entire film can be seen here).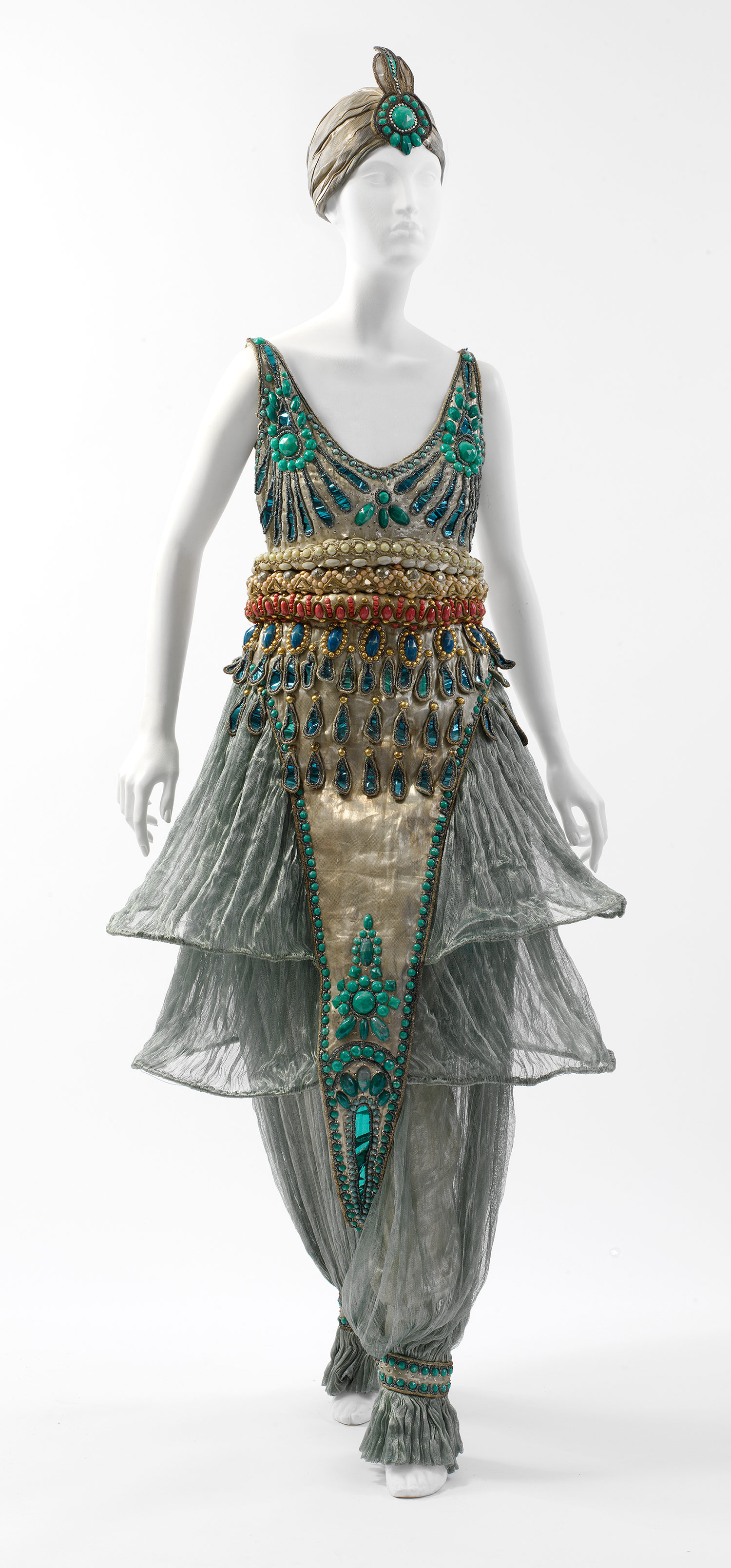 Fancy dress costume, 1911 by Paul Poiret (Met, CI)
---
[1]
Dressler, Marie.
My Own Story, As told to Mildred Harrington
. Boston: Little, Borwn and Company: 1934. (148-149)
[2] (Oderman, Stuart. Roscoe 'Fatty' Arbuckle: A Biography of the Silend Film Comedian 1887-1933. London: McFarland & Company, Inc, Publishers. 1994. 61)
[3] Kennedy, Matthew. Marie Dressler: A Biography London: McFarland & Company, Pblishers, 1999. (83) (no source cited)