"By the mid-1940s, Jacqueline was arguably the most influential designer of surface pattern in Britain."
–Book review by Lisa Santandrea
An opening spread in  Jacqueline Groag: Textile & Pattern Design: Wiener Werkst,tte to American Modern
pictures the designer. White-haired with bangs and a pixie cut, an aquiline face, one graceful hand rests on her chin; the other holds a smoldering cigarette. She looks into the camera; her gaze is direct, yet not quite serious. Although she is in her 50s, her skin is lineless, glowing.  The image does not reflect the hardship of her experiences—WWII displacement; a beloved husband later described as a "bad tempered old man."  Instead, what shines through is the pert curiosity of one who claimed her "inner age" to be eight years old. It is the face of a woman you'd hope to sit next to at a dinner party.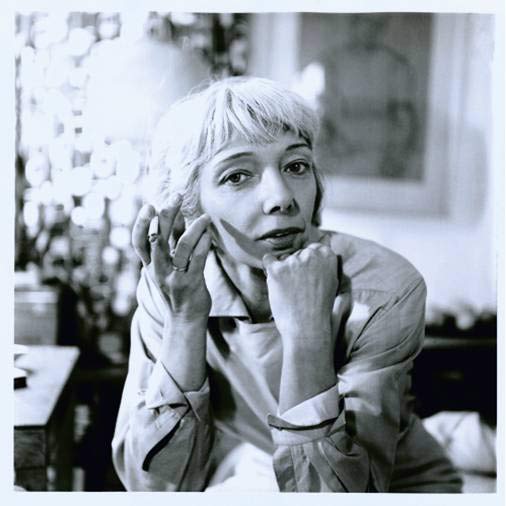 Jacqueline Groag, by John Garner, 1957. Design Council archive, University of Brighton Design Archives.
Born in 1903 to Jewish parents in Prague, Jacqueline Groag—born Hilde Pilke —traveled to cosmopolitan Vienna to study textile design at the influential Kunstgerbeschule. At 23 and already a widow, a career in art and design was one of the few avenues acceptable for women at the time. A self-described 'sophisticated naïf,' Groag apparently flowered under the tutelage of instructor Franz Cizek, who gave his students colored chalk and drawing pads, and asked them to draw while inspirational music played in the background. Impressed by her progress, Cizek convinced architect Joseph Hoffman, head of the Werkstätte, to waive admission requirements, and she spent the next two years as the architect's pupil. By 1930, she was already being described in print as a "front runner of the Hoffman school," and was designing textiles for couturiers including Chanel, Lanvin, Worth and Schiaparelli.
Further accolades followed quickly. In 1931, she won an award for lace design at the Paris Exposition Coloniale International. This was followed by a gold medal for textile design at the Milan Triennial in 1933. Personally life was blossoming as well. At a Werkstätte masked ball in 1930, she met the respected Modernist architect Jacques Groag, who was also a Jew from Czechoslovakia. In 1931, they were engaged, and married in 1937—when she changed her first name from Hilde to Jacqueline. "His wonderful, never aging, youthful enthusiasm took me to spheres so high and unearthly as no man ever did and no man can imagine," she later wrote. The couple—both shining stars in Vienna's intellectual circles—is thought to have collaborated on many projects during this time.
But the Nazi threat was looming. When Austria and Germany united in 1938, the couple was forced to relocate to Prague. Just one year later, as Germany occupied their native land, they fled to Britain.
As the home of the Arts and Crafts movement, Britain was considered hallowed refuge for artists. However, by 1939, the reality was different. "On arrival in London they found themselves members of an uprooted group of disoriented and anxious patriots in a country shaken to its roots and preparing to fight for its life." Nonetheless, Jacqueline soon found work designing textiles for export, as war restrictions resulted in very limited textile printing for the home market. Jacqueline's designs had a playful eclecticism, often incorporating a "rational underlying grid associated with Joseph Hoffman."  Flipping through the book's abundant full-page color plates, the essence of the "eternal eight-year-old" is clear.  Vivid colors, strong lines, even a certain fearlessness is evident in her work. It provides insight into her personality—insight that is much valued. As much as this book has to offer, the text left me wondering. Just what was the personality behind that face that so compelled me?
The authors, Geoffrey Rayner, Richard Chamberlain and Annamarie Stapleton, clearly know their subject. Yet much of the book reads like an extended resume. The reader learns that Jacqueline received important commissions by the Design Research Unit (DRU) as well as industrial designer Gaby Schrieber. We find that her tulip design for Edward Molyneux made it onto a dress for Princess Elizabeth. We read that she designed interiors for the airline BOAC, greeting cards for Hallmark, textiles for the Associated American Artists, and, eventually, plastic laminates.  We note that she became a Royal Designer for Industry, "the ultimate accolade for any designer in Britain," in 1984.
But her professional achievements seemed in stark contrast to struggles at home. Jacques , whose career floundered in England, had a nervous breakdown, and Jacqueline became the primary breadwinner…how did she feel about that, I wonder.
And that, I realize, says more about me than I should admit to.  I wanted a page-turner, a behind-the-scenes US magazine look at a woman working and thriving in WWII and beyond.  This was not the authors' intent. Instead, they provide an excellently researched, beautifully illustrated and clearly written reference, one that honors Jacqueline's illustrious career by the purity of its focus on her work.  Indeed, the straightforward tone of the text drove me to more closely examine her designs for clues. And it is, after all, this work that is being celebrated here. Job well done.
Sample page spreads from Jacqueline Groag: Textile & Pattern Design: Wiener Werkst,tte to American Modern
are below, or a larger excerpt, can be downloaded here:
Jacqeline Groag – selection of spreads (PDF)
—Lisa Santandrea is lecturer in costume history at Parson's School of Design and at the NYU graduate program in Visual Culture: Costume Studies.