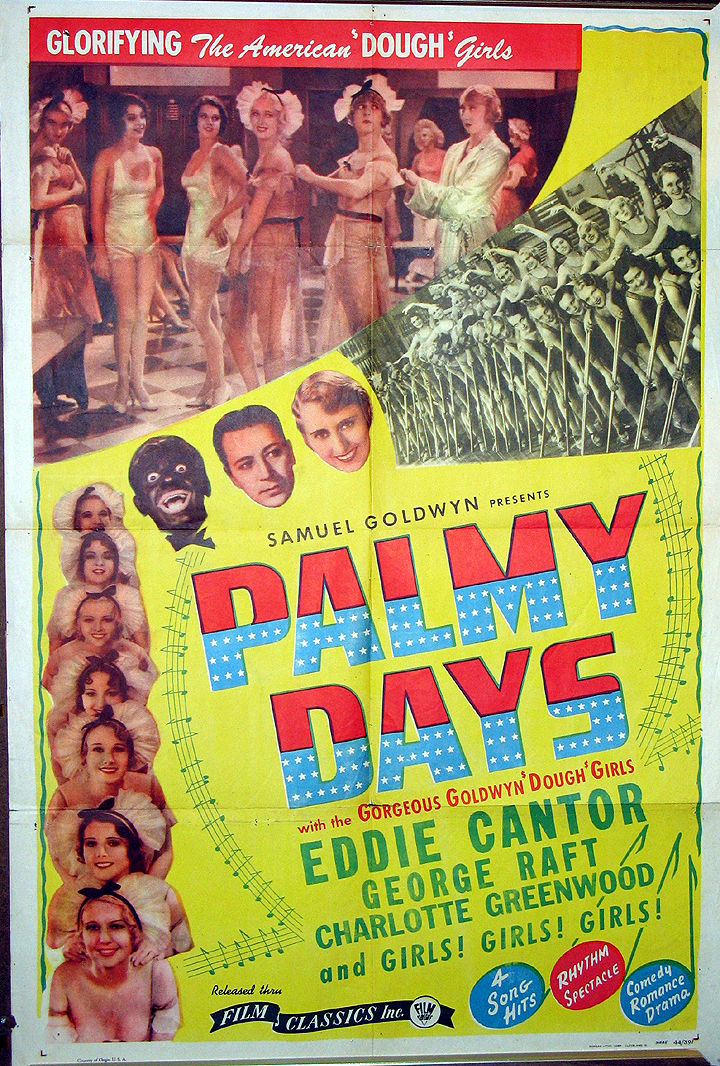 During the early 1930s, the Hollywood Film Industry feared that the effects that the Great Depression would have on their industry.[1] With advertising by MGM warning theaters: "Buy badly and you'll have empty seats in these times,"[2] the fear that a film would fail to fill seats was real and substantial. Palmy Days, released in late September of 1931, was one of two listed in Variety as a "smash" just one week after it was released.[3] Palmy Days success was due in part to the massive publicity campaign[4] and the star power of Eddie Cantor. But its real strength, as Cantor noted at the opening, was its appeal to the mass audience.[5] Audiences were drawn to it because of the films strategically placed, climactic, and suggested female nudity. This proved to be appealing to both male and female audience members due to the fashion mode of the time.
In the film industry at this time, women in the chorus were known by various names including "show girls," "chorus girls," "choristers" or "chorines" and were often used to "dress the set."[6] Though clothed and never actually naked on the screen the chorines in Palmy Days are clothed to imply nudity repeatedly. As Anne Hollander discusses at length in her book, Seeing Through Clothes
, the half-naked body is far more appealing than complete nudity.[7] In addition to emphasizing and exposing the natural female form, the costumes help create the luxury and spectacle meant to distract its audience from their problems. Appealing to the male audience by promising a cavalcade of curvaceous "girls,"[8] and appealing to women by reinforcing the fashion mode of 1931 helped to pack in audiences.[9] Getting women into the theatres was key and was noted in Film Daily on March 9, 1931, "A Warner Brothers executive has also gone on record in sating [sic] that 'women bring the men to the theatres, as a rule, therefore pictures for the women must be prevalent.'"[10] The tactics used to get both men and women to go the theatres are related, as the fashionable silhouette of the early 1930s was increasingly focused on the natural form, and a visible body. This key scene in Palmy Days shows the importance of natural shape to the mode of the early 1930s and will specifically emphasize the legs. Both earlier and later films exploited false nudity-some to a greater extent-but Palmy Days provides an average example of nudity in films of the early 1930s. After 1934, the Hayes Department began to enforce standards of "decency" and nudity became less of a feature in film.[11]
Palmy Days was the second film choreographed by Busby Berkeley. Typical of films at the time, it has a simple plot, which provides ample room for visual opulence and luxury. The film stars well-known comedians Eddie Cantor as the assistant named Eddie Simpson and Charlotte Greenwood as a gym instructor named Helen Martin. Simpson, initially working as an assistant to a phony and criminal psychic, ends up as an efficiency expert at an all-female donut factory. At one point, he even cross-dresses to escape the psychic's henchmen. The all-female donut factory is a device used by the filmmakers to include a large number of women in choreographed dances.
The idea of nakedness on stage was not a new one to the world of the chorine. Stage chorines in the Ziegfeld Follies of the teens and twenties were long familiar with this practice. "The near nudity that Ziegfeld made respectable was an especially potent draw, not only in the theatre proper but also at the popular rooftop night club where his Midnight Frolic featured elaborately costumed chorus girls parading along an elevated glass walk-way so patrons could glimpse – well, they couldn't glimpse much, but the titillating possibilities acted as a powerful aphrodisiac." [18] This practice of teasing patrons with glimpses of bare skin is continued in Palmy Days. Veiled nakedness, exposed body parts, and subtle nudity are prevalent throughout the film. The film's overall effect and the intention of Samuel Goldwyn was to recreate Ziegfeld's opulence on screen. Critics agreed with him, and one of several reviews noted his success at becoming the new Ziegfeld, "of typical Cantoresque antics, most of which take place in a bakery operated by a chorus of girls who out-Ziegfeld the best set of Follies girls for pulchritude and dancing talent."[19] It appeared that "Sam Goldwyn was now determined to become the Ziegfeld of Hollywood." [20]
As mentioned earlier, this key scene illustrates this veiled nudity and its importance to the 1930s audience. In the first scenes of Palmy Days, a chorine appears as a bakery worker. She stands in a room full of other bakery workers and blows on a whistle. Her visible nipples, seen through a low cut top, make reference to the image of a fully naked woman. The shirts of these uniforms are made to look like aprons-coming down low onto the leg-with low necklines. [21] The apron shirt continues around to the back, finishing with a bow and leaving the woman's shoulders, spine, and lower back entirely exposed. Some variations on these costumes exist elsewhere in the film as well. Some women wear pants, while others wear skirts or shorts with their apron tops. The pants are tight at the top, and there does not appear to be any undergarment between the fabric of the pants and the skin, again hinting at the fact that she is naked beneath her clothes. Sketches of these costumes appear in advertising for the film as well (see below). Five women in the lower left corner appear to be wearing nothing but, heels, aprons and bakers hats, further emphasizing the importance of unclothed women as a sales hook for the film. One of them has her back to us, showing how little she wears. Their legs are long and stretched emphasizing their length and shape.
Pleated skirts and shorts, ruffled and pleated hats, collars and skirts are indicative of the body's movement. When their bodies move the pleats and ruffles move as well, showing glimpses of skin through the fabric. Some of the bakery workers' costumes have short pleated skirts, rather than pajama pants, and as the group marches off to gym class the skirts flutter and move along with them emphasizing the movement, their legs, and their exposed skin. Shorts and beachwear were becoming more and more popular during the early 1930s, and the public was growing used to the idea of visible skin. Swimsuits of the time were also very low in the back, and several ads for Jantzen swimwear in the Vogues of 1931 demonstrate this practice.[22] Sunbathing, encouraged by Chanel in the 1920s, is prevalent in this film as well, again focusing on skin and nudity.[23]
During the "Bend Down Sister" routine-where the bakery workers go to gym class with Helen Martin-there are a series of close-ups on the faces and upper torsos of the women as they bend over a railing. Clothed in simple, low cut, gray tank tops, and very short shorts, much of their bodies are indeed naked. The first woman bends over the railing without pulling her shoulders back and the camera-and thereby the audience-glimpses a bit of cleavage. As the camera continues down the line of women, each of them pulls their shoulders back, to keep the tank top taut across the front. This only serves to emphasize the fact that the first close up provided a visual taboo by showing cleavage and that what we almost saw was a woman's actual body.
This kind of exposure did not go unnoticed by the women wearing the costumes. Interviews with the women in these and similar chorine films note how uncomfortable they felt in their costumes, when they were offstage and out of the fantasy world of the film. Gwen Seeger, a chorine working on multiple Busby Berkeley films noted, "We wore some scant attire. In our days, we were covered with a few feathers and beads, but we were covered! It was nudity, but it was covered! And it wasn't vulgar. And yet, when I got off the set I'd always run and cover myself up with a robe! I felt like I was too undressed to be wandering around."[24]
---
(This is an excerpt from Exposed Women: Nudity in the chorine costumes of Palmy Days (1931) by Heather Vaughan; presented at Rocky Mountain Interdisciplinary History Conference, Boulder, CO, September 2003.
---
[1] E.L. Weisner, "What Causes a Slump?" Film Daily, 7 Oct. 1931: 1. "Films Debunk Depression," Film Daily, 8 Oct. 1931: 1, 15. "Hays Submits program in Campaign to Aid Unemployed" Film Daily, 13 Oct. 1931: 1, 4.
[2] Advertisement, Film Daily, 7, Oct. 1931: 4.
[3] The other film designated as a "Smash" was the Marx Brothers', Monkey Business "11 Standout Features in Aug-Sept" Variety 6 Oct. 1931: 3.
[4] Palmy Days advertising pages state "life-sized beauties, colossal contours and massive letters gave the Rialto[at the New York City Premier] a front visible for blocks and blocks" and included 'a gigantic parade of trucks that extended for 2 miles down Broadway." Variety 29 Sept. 1931: 32, 33. The campaign also included a doughnut dunking promotion at a shop at Broadway and 45th, where "Police reserves had to be called out…to manage the mobs that gathered to watch." "Eddie Cantor Launches Dunker Drive" Film Daily 27, Sept. 1931: 2.
[5] At the invitation only opening performance, Cantor noted that "it wasn't made for you; it was made for the masses." Review of Palmy Days, Film Daily, 29, Sept. 1931. 14.
[6] Interview with Walter Plunket, by John Kobal, Gotta Sing, Gotta Dance: A Pictorial History of Film Musicals. (The Hamlyn Publishing Group Limited: London, 1970) 304.
[7] Anne Hollander, Seeing Through Clothes (Berkeley, University of California Press, 1993) Chapter II: Nudity.
[8] "Patrons in the smaller places would fall over themselves to see the pictures in which these beauties appeared." "The New Hollywood Dancing Girl," article quoted by Kobal, (1970 edition) 308.
[9] A special women's review section of Variety notes that this "lavish production" was a film that was "important on the ladies list." "The Woman's Angle," Variety, 29 Sept. 1931: 14.
[10] "Major Producers Making Efforts to Increase Woman Patronage," Film Daily, 9 March 1931, 8.
[11] "the Hays Office first list of thou-shalt-nots was published in 1927; in 1930 the list was recast into what came to be known as the Production Code. But the Hays Office did little to enforce its code until in 1934, it was forced to by a public outcry, spearheaded by the newly formed Catholic Legion of Decency, against excessive violence and sex in films." (Fumento, 11)
[12] Palmy Days (1931)
[13] Bob Pike and Dave Martin, The Genius of Busby Berkeley, (Reseda, Calif.:CFS Books, 1973) 50 and 59.
[14] Edwin M Bradley, The First Hollywood Musicals: A Critical Filmography of 171 Features, 1927 through 1932. (Jefferson: McFarland, 1996) 150.
[15] American Film Institute Database listing for Palmy Days.
[16] Axel Madsen. Chanel : a woman of her own. (1st ed. New York : H. Holt, 1990). 190
[17] Pettey, Tom. "Actress to Be Only Player in Cast of 'Alice.' Chicago Daily Tribune, Jul 26, 1931, pg. C9. (another article, "Watch for these Fall Trends in New Pictures," Photoplay. September, 1931 pg 44, includes photographs of the designs.
[18] Constance Rosenblum,. Gold Digger: The Outrageous Life and Times of Peggy Hopkins Joyce.(1st ed.New York : Metropolitan Books, 2000) 51.
[19] Motion Picture Herald, 5 Sept. 1931: 44.
[20]Herbert G Goldman, Banjo eyes: Eddie Cantor and the Birth of Modern Stardom. (New York: Oxford University Press, 1997) 140.
[21] Similarly, Ann Hollander notes in Seeing Through Clothes, that in the eighteenth century women's gowns were ". . . very low cut and their kerchiefs tucked rather carelessly into the neckline so as insufficiently to hide the breast" and that "Nipples peeping out of gauzy stuff, as if accidentally, became a standard device…" (210-211)
[22] Jantzen Advertisement, Vogue, 1, Jan. 1931: 80
[23] Elizabeth Ewing, History of Twentieth Century Fashion. (4th ed. Alice Mackrell, ed. London: B.T. Batsford, 2001) 112-113.
[24] John Kobal, A History of Movie Musicals: Gotta Sing, Gotta Dance (Rev. ed. New York: Exeter Books : distributed by Bookthrift, 1983) Interview, 111